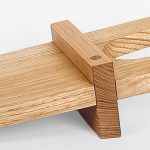 70.00CHF
SKO is a refreshed bootjack or "shoejack" based on the technique of mi-bois en croix. Therefore, SKO is assembled without any screw or nail.
The semantics of the object cannot be clearer; every foot finds its place on both sides of the assembly.
SKO makes it easy to take your shoes off.
Your soles won't be torn apart by your shoes anymore. A real shoe paradise.
Out of stock